---
Yes, you heard correctly. The Houston Rental Studio is moving! As photographers ourselves, we understand that shooting in one place can get a little repetitive after a while. We truly love our current location but after three years in our current space, we have finally decided to try another location.
Some of the reasons for the move:
More Space! In our current studio we have 2,600 soft but will be increasing to nearly 4,000 sqft with our new location!
Free Parking! Though we rarely hear a complaint from renters, we know having to pay to park downtown isn't always the most convenient. Now you will be able to park ON SITE, for free, and within a few feet of our door.
Elevator(S)!! Not only will we have access to a passenger elevator, we are going to have a freight elevator as well! No more hauling your gear up two flights of stairs.
Dedicated Boudoir Studio! No longer will boudoir/provocative shoots require a Full Studio rental. With the addition of private/separate shooting space, boudoir shoot can be booked independently within this new area.
Future Cyclorama Wall! With the added space, we will be adding a cyc-wall in the very near future.
Multiple Restrooms! The new location has men's and women's restroom, with multiple stalls, and high end fixtures.
Event Rentals! We are now able to host moderately sized events.
No Compromise on Esthetics! With even MORE natural light THROUGHOUT the studio, amazing antique floors, and original brick, the unique setting that has made us one of a kind will still be our main focus!
Though these following photos are NOT the best representation of the finished product, it will give you all a inside peek into how much space and character we will be working with from a starting point. Additionally, it will be great to look back in a few month and see how much of a transformation has taken place!
Without further ado,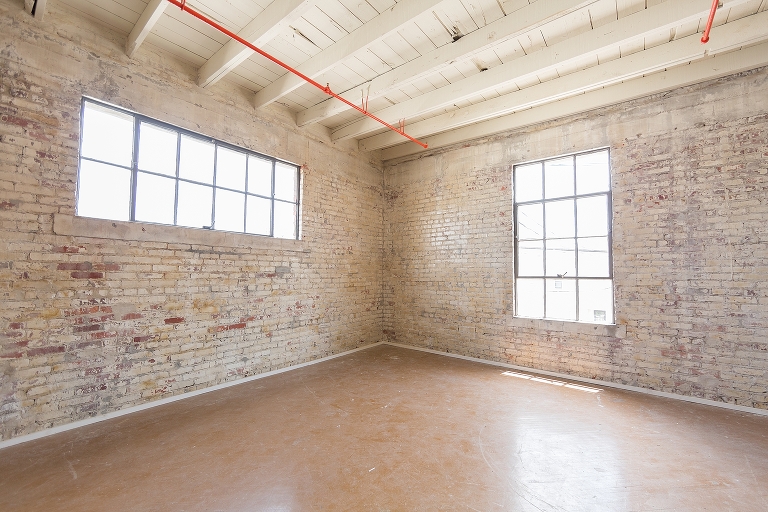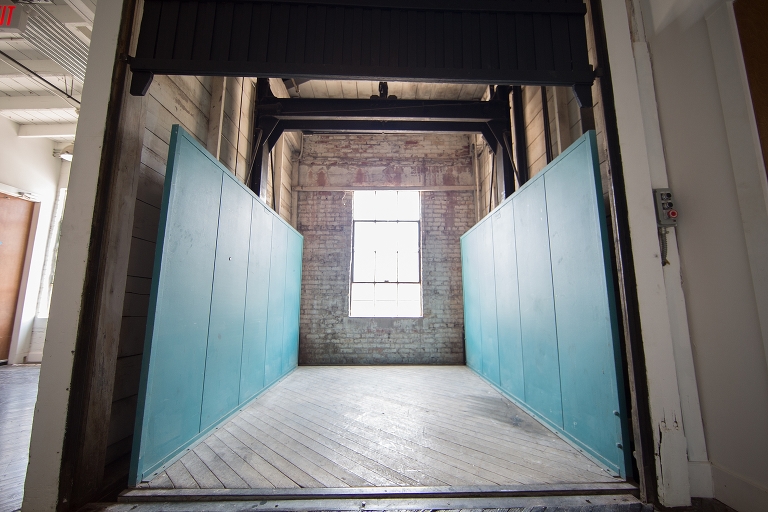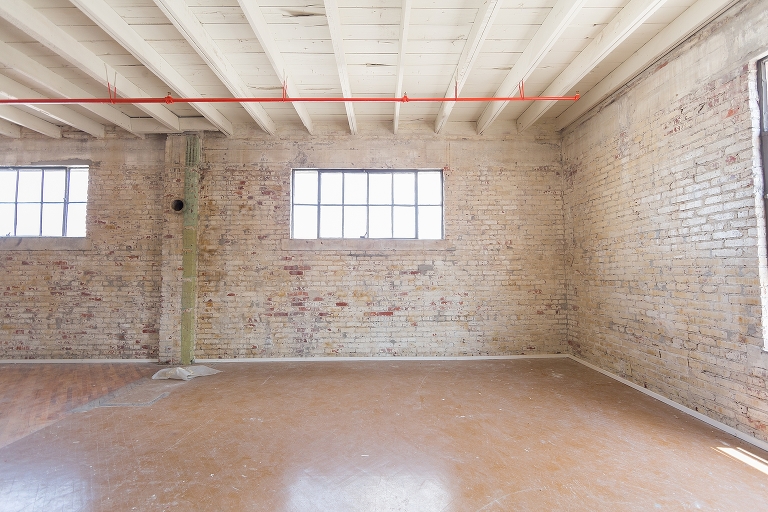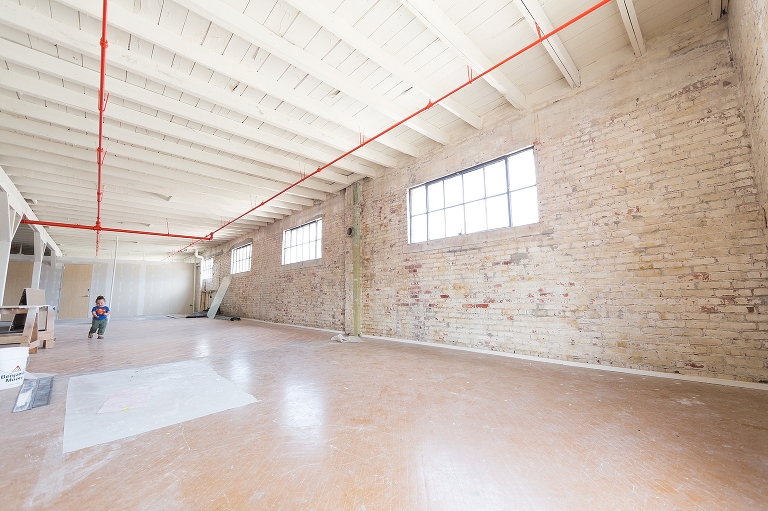 Studio A will still primarily lend itself to "Natural Light" as well as access to unique areas on the property to utilize. The freight elevator, outdoor settings, and exposed bricks and windows will be a photographer's dream. (Image to the right) We will be knocking out these two windows and adding two 8'x8′ windows to bring in even more natural light. They also face south, making the area bright all day, year round! Additionally, we will be stripping some of the brick's pain throughout the studio to give mixed options of patina, painted, and exposed brick throughout.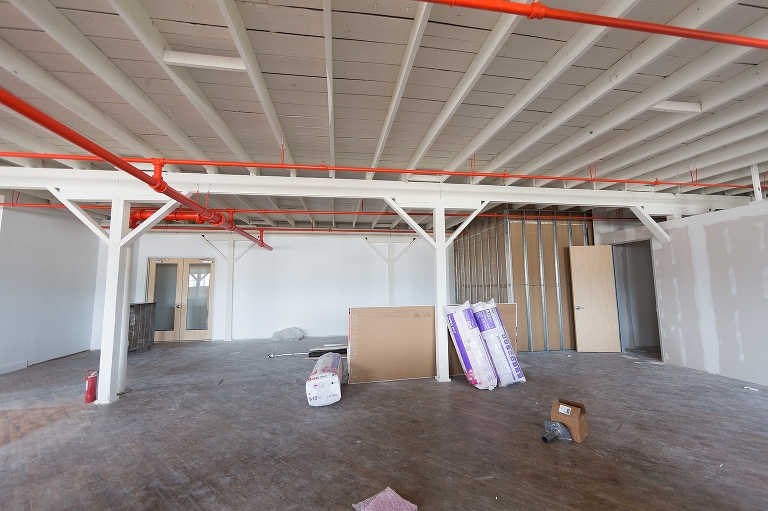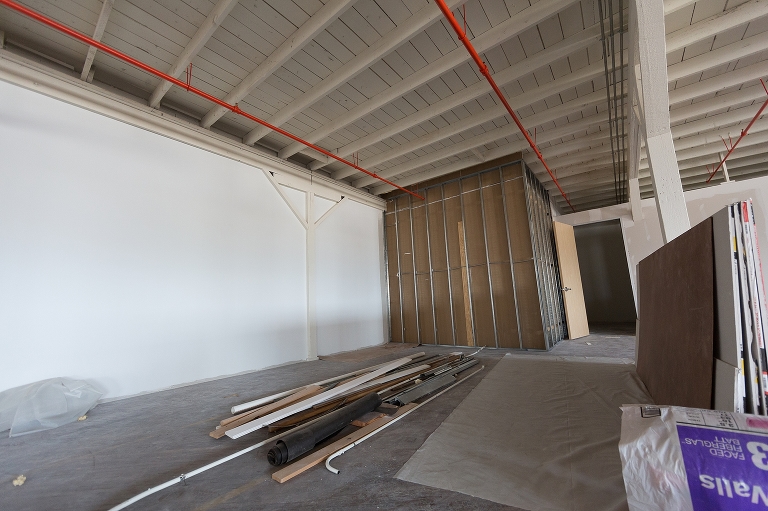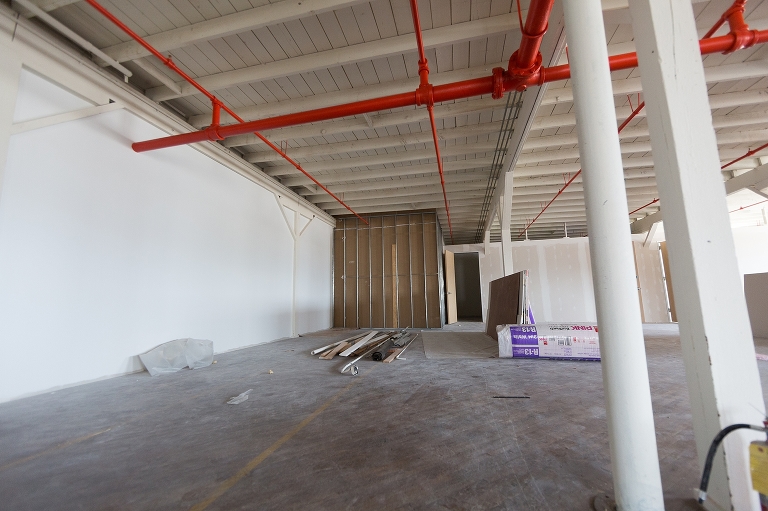 Studio B, will still offer the use of all of our backdrops AS WELL as our future cyc-wall! This area will be in the "dark" section of the studio and will have options for mitigating the light even more with shades and partitions.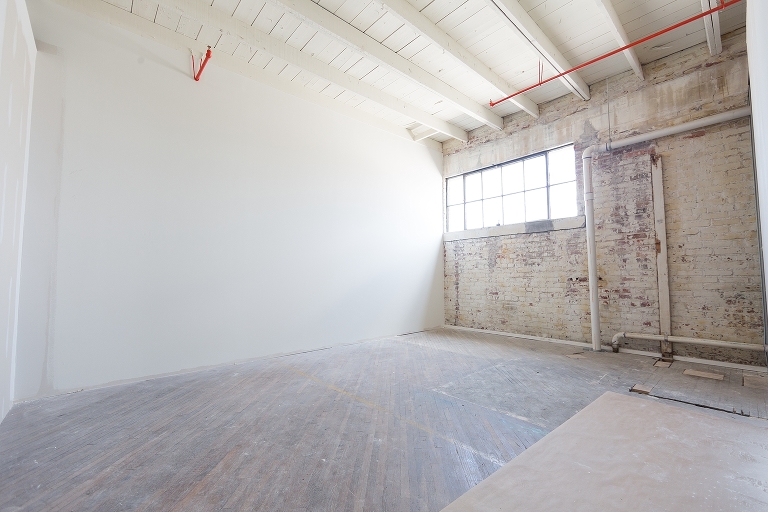 Studio C will be an additional option for those needing privacy but not requiring the rental of the entire studio. Much natural light, a private changing partition, and typical boudoir props will be included.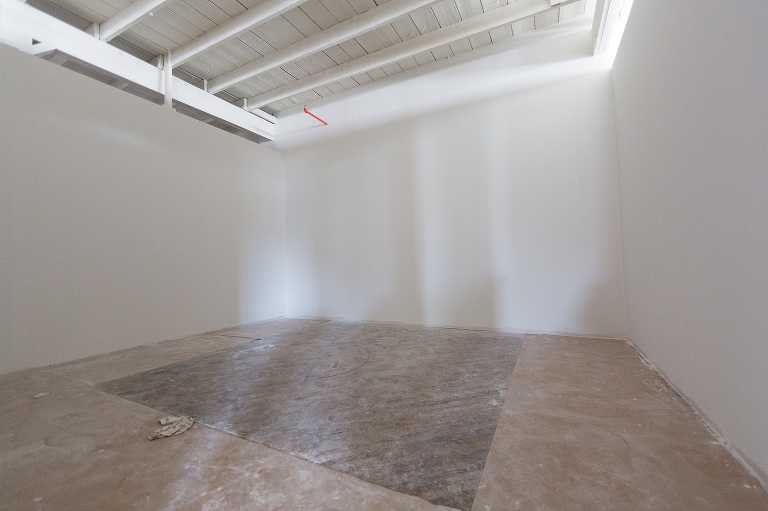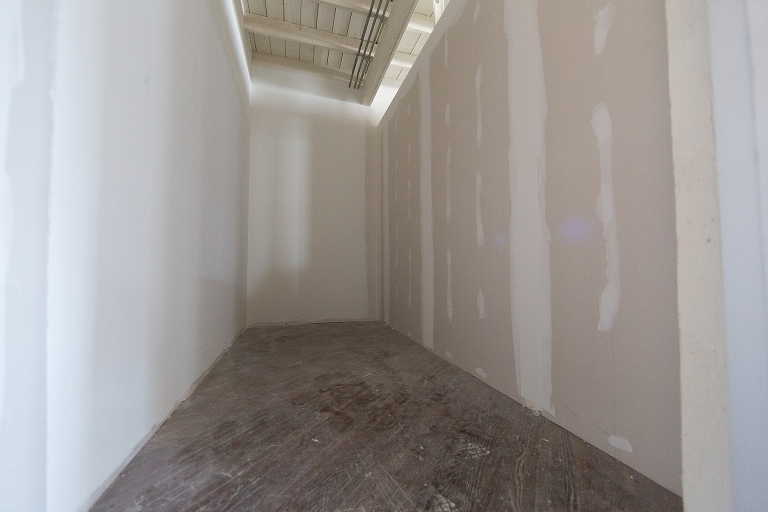 In addition to all of the above areas, we will now have a separate changing space and large office for consultations and a place for our managers to work! These images do a good job showing the dark wood floors (under the dust) that will be stripped and cleaned in the next few weeks.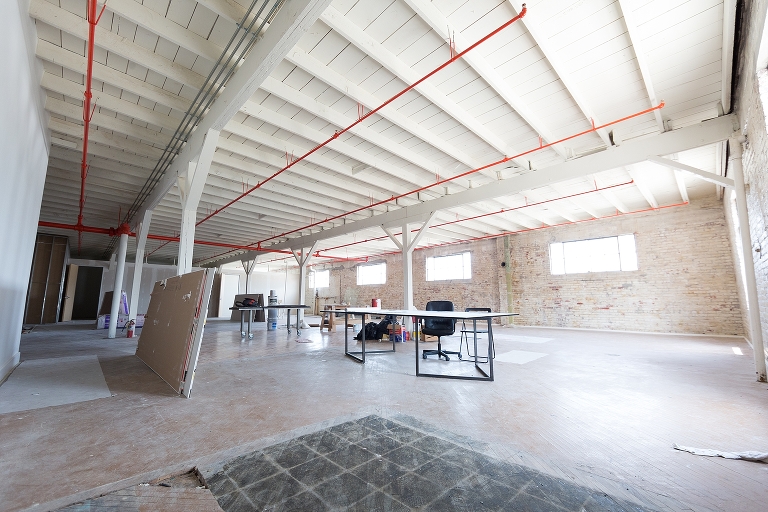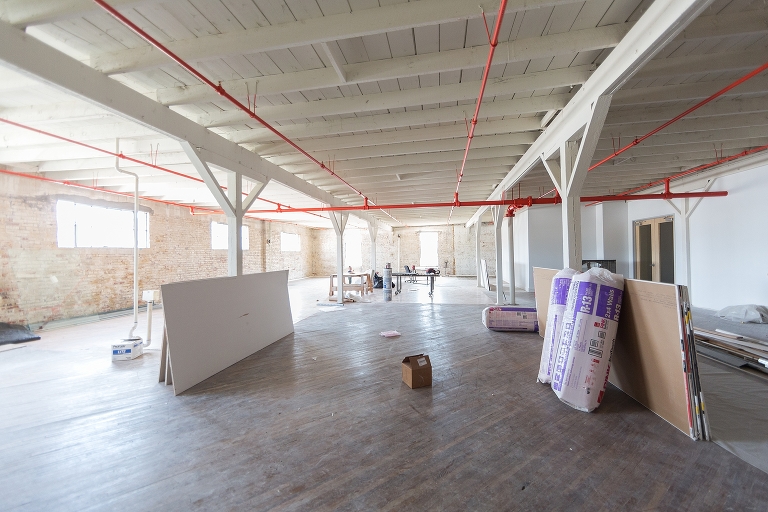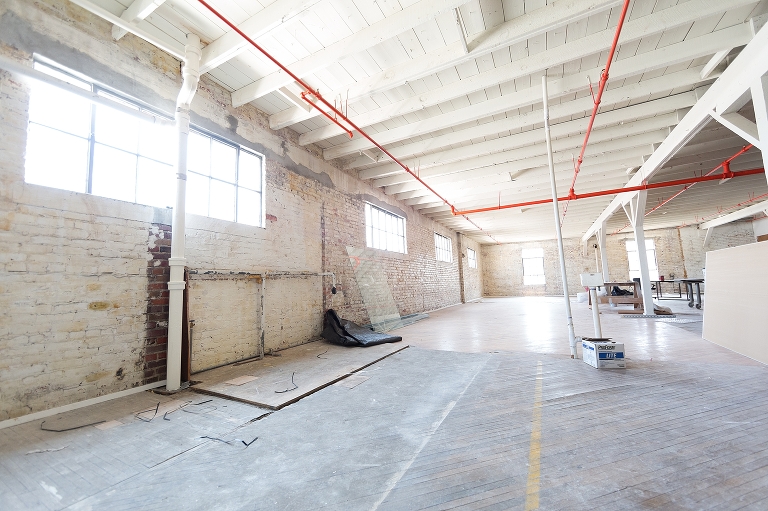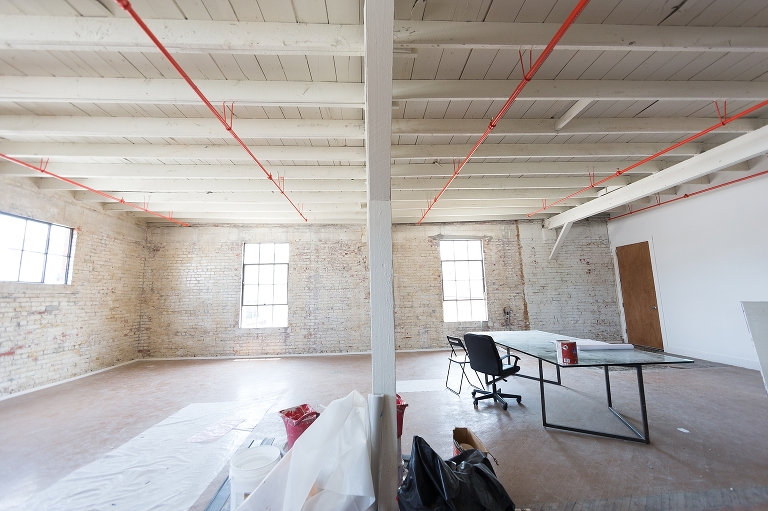 Lastly, a few images to show just how LARGE this place is! It is truly incredible. 4,000 sqft will give us the opportunity to offer much more variety, convenience, and a lot more "breathing room" to all of our renters!
As mentioned, we will be installing two window, refinishing the walls, completing the drywall, adding lighting, installing an A/C unit, and painting (the sprinkler system piping included). We have a lot of work but we expect to be IN PLACE by 1 August.
We will continue to book rentals in our current location as long as we possibly can. We know there will be a lot of questions from our current renters and those who are anxious to get in here. Please feel free to send up any/all questions to our FB page and we will answer them as best we can.
We are very excited to share the new location with you!